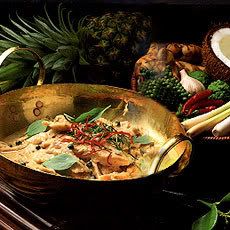 Will try cooking this tomorrow, and will definitely update afterwards - my first attempt of making curries (different curries) from scratch! (Cooked "Kari Kapitan" the other day, will upload the pics later)
Pic above is taken from
Delia
and the recipe is compiled from various sites, notably
this
The Paste:
20 whole green bird eye chillies
(cabe rawit)
20 white peppercorns, ground finely
(3 tsp of ground white pepper?)
1 stalk of lemon grass, chop and use only the bottom third, soaked for 30 mins with 2 tbsp of lime juice
(mine actually comes from a jar, so I use 3, since it's less pungent)
7 thin slices of dried galangal or 1 tbsp chopped fresh galangal
(I hope my food processor can survive the dried galangal)
2 tbsp chopped basil leaves
1 tsp chopped coriander leaves
1/2 tsp roasted ground coriander seeds
1/2 tsp roasted ground cumin seeds
1 tsp coarse sea salt
4 shallots, roughly chopped
(doesn't really matter since everything will go into the food processor)
4 garlic cloves, peeled
2 tsp young ginger, chopped
2 tsp shrimp paste
(terasi bakar or belacan)
Put everything into a food processor, and the paste should be a bit coarse. If you want, you can smoothen it out by using mortar and pestle (but that's the whole point we're using food processor isn't it? To AVOID mortar n pestle).
This can be prepared ahead of time and stored in the fridge.
Now is the rest of the recipe.
Ingredients
600 ml coconut milk (from 2 cans)
280-300 g chicken breast, cut into large cubes
1 large aubergine, cut into wedges
1 courgette, cut into wedges
200 g green beans, cut into strips
2 red onions, cut into slices
3 tbsp green curry paste (more or less, to taste)
7 kaffir lime leaves
25 g basil leaves
lime juice to taste (about the juice of 1/2 lime)
4 tsp fish sauce
1 tsp palm sugar
(I'm going to substitute this with demerara sugar)
1 red chilli, cut diagonally into strips, for garnish
Method
+
Coconut milk:
put the tins upside down on a work surface, open. Separate the milky bit and the creamy bit.
+ Heat the wok on high, when it's hot pour 3/4 of the cream, stir until it's curdled.
+ Add curry paste to it, followed by the rest of the coconut milk and the kaffir lime leaves. Keep stirring so the coconut milk doesn't stick.
+ Reduce the heat to low, add fish sauce (for saltiness), sugar (for sweetness), and lime juice (for sourness).
+ Add vegetables and chicken, simmer for 20mins.
+ Add chopped red onions, cook for a couple of minutes, then add basil leaves and sliced red chillies. These are for garnish.
Done! Served with Thai jasmine rice, hmmmmmpph!