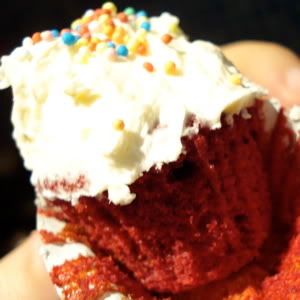 Happy Valentine's Day to all of you out there, and if you're thinking of making something special for that special person (I know it may be a tad bit too late, but hey! Better late than never) then here's a lil recipe I dig up from my food collection/iPhoto collections :) I've baked this twice (once for my class! See what a wonderful class we have, everyone bakes cakes for tea time hahah!) and both times I get rave reviews :p
Original recipe provided from
Magnolia bakery
in NYC (has been featured in the likes of Sex and the City series), recipe and video instructions can be found
here
(see, so this is very beginner-friendly).
My alteration from the original recipe: I use 300 g of butter for the cupcakes, I think it's a lil typo on the recipe page since otherwise the cake will be wayyyy too dry. So in total, you will need 300 g butter for the cupcake and 450 g butter for the icing (so in total buy 3 blocks of 250g butter!) I know, it's quite "heavy", but it's worth it!
Cupcakes
Ingredients:
3 1/2 cups

cake flour

(*see instructions below)

300 grams unsalted butter, softened
2 cups sugar
3 large eggs, at room temperature
6 tablespoons red food colouring (normally 2 bottles, make sure it's the normal red food colouring and not "natural" food colouring which is more expensive and doesn't give the same bright red colour)

3 tablespoons unsweetened cocoa (in the UK,

Green & Blacks

is a good brand, or use Hershey's everywhere else in the world!)

1 1/2 teaspoons vanilla extract
1 1/2 teaspoons salt
1 1/2 cups buttermilk
1 1/2 teaspoons cider vinegar
1 1/2 teaspoons baking soda
*To make 1 cup of "cake clour": put 2 tablespoons of cornstarch into your 1 cup measurement, fill to the top with all-purpose flour (so for this recipe, do this 3 times). To make 1/2 cup of "cake flour": put 1 tablespoon cornstarch in 1/2 cup measurement, fill to the top with all-purpose flour (for this recipe, do this once). This is the idiot-proof guide of making a cake!
Confused about baking soda (sodium bicarbonate) vs baking powder? Help is
here
. So read recipes carefully and use what the recipe requires. In this recipe, we use baking soda with buttermilk as the acidifying agent. If you made a mistake and add the wrong one, better just throw the whole thing away, cos it won't do your cake any good.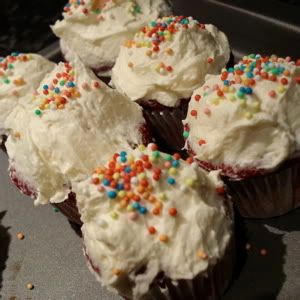 Method:
Preheat oven to 180°C. Line muffin pans with muffin cases. This will make 2x12 cupcakes (normal muffin size), I usually make 12 normal size cupcakes, and about 24 tiny ones.
Sift flour. Cream the butter until it turns very pale colour and fluffy (5 minutes) on med-high. Reduce to slow-med, slowly add sugar 1 tablespoon at a time. Break 1 egg to a small bowl, add to mixer, repeat until you have incorporated 3 eggs.
Mix red food colouring and vanilla extract on a bowl (I advise you using kitchen gloves as it can get a bit messy), then add cocoa powder, whisk briskly.
Stop the mixer (very important!!! You don't want to splatter everything). Add the colouring mixture very carefully, turn mixer on the lowest setting, then once everything is blended, turn it up to medium speed.
Add a little bit of milk, flour, salt, then milk-flour-milk-flour until you have used up everything.
Mix cider vinegar and baking soda on a small bowl, add to the batter. This will give the batter a very bright red colour!
Scoop with ice cream scoop (I have one that is the perfect size for the normal-size muffin) or use tablespoon. Bake them for 20 minutes (switch positions after 10 minutes to make sure even baking).
Let the cupcakes cool completely on a wire rack. And you can set up the icing!
Icing
Ingredients:
6 tablespoons all-purpose flour
2 cups milk
2 cups (450 grams) unsalted butter, softened
2 cups sugar
2 teaspoons vanilla extract
And some sugary sprinkles for decorations!
Method:
Add flour to a saucepan, add milk, whisk slowly, heat in stove, keep whisking until it is very very thick.
Cream butter until pale and fluffy (3 minutes). Add sugar 1 tablespoon at a time. Add vanilla extract, then add the base (the flour and milk mixture) 1 tablespoon at a time.
Put icing in fridge for 10-15 minutes max to get harder consistency, then ice generously on cupcakes!