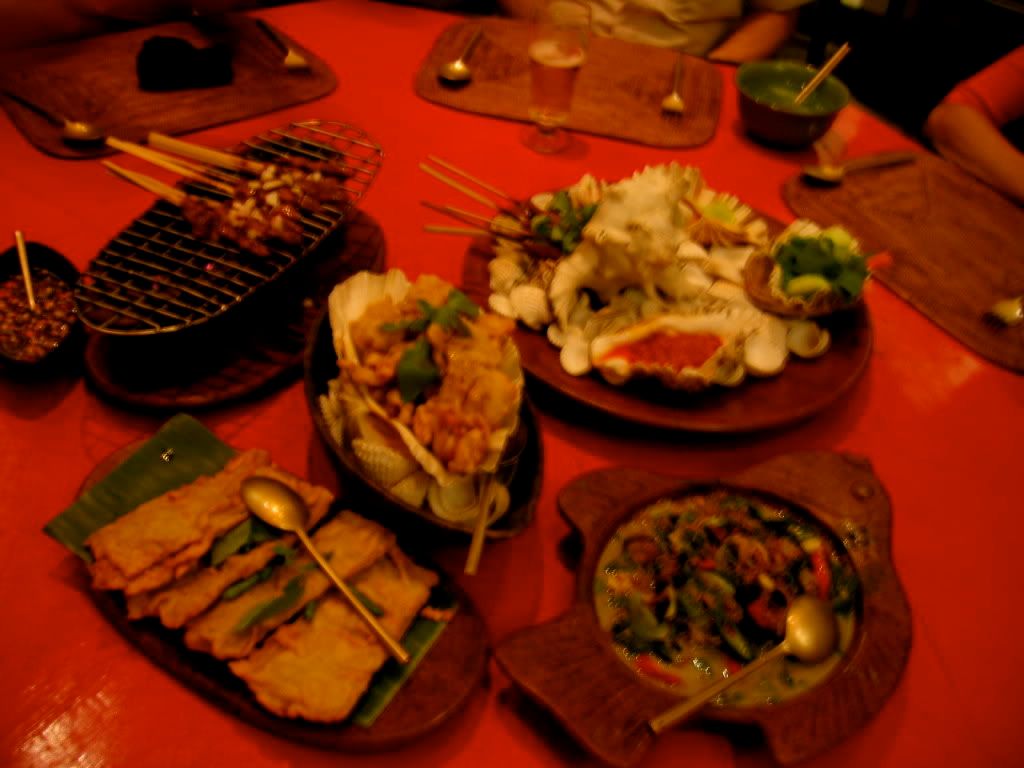 Tempe vs. Tahu?
Well, I totally agree with mom, many tofus are of shit quality, they're too sour, even though they're still fresh, but good tofus are always NICE.... Love it. Esp, Japanese silken tofu huahhhhhhhh, ato dibikin Sapo Tofu... My favs. are: tahu bacem, tahu kipas, mabo tofu.... does tofu-fa count (-> kembang tahu) hehehe...
But anw... we can find tofus like everywhere, but TEMPE? Most people never heard of it (they don't know what they're missing!) even some Singaporeans, Malaysians, Bruneians... DOH! Even though they DO have tempe in some of their food (usually some of their fellow countrymen wud correct them, "We DO have tempe, you know like in ....").
I remember asking my ex-boyfriend who was going on a trip to Amsterdam to find tempe, and I specifically told him where to get it from: Chinatown, even through some LJ user I found out where chinatown in Amsterdam is (near sth sth train station etc. etc.) and guess what? He didn't listen obviously, he just got the bit about "tempe" and went to every single DUTCH shop, patisseries, bakeries, etc... Then he texted, "Couldn't find your tempe hun" and I told him to go to Chinatown, and DOH there were plenty. He got me 2 blocks. I was estatic!!!
And when I went home this Easter I brought back one block of tempe too... but somehow they don't taste that nice, a bit sour, or perhaps they've gone BADDD? from the 13++ hours of travelling? Oh dear...
Best tempe experience... at Loro Djonggrang, a cross between Indon restaurant and an art gallery, ordered this "home-made" tempe which was recommended by the waiting staff, and boy oh boy was it good!!! It was just the juiciest tempe, you could really taste the soya beans.... the grains... it was rich in flavour, and although it was cooked with batter (sort of tempe mendoan style) the flav. of the batter didn't superimposed the natural fresh taste of FRESH HOMEMADE TEMPE, haha... seriously...
And it was also helped with fantastic presentation, and I really shud've taken more pics of the tempe hehehhee...
Got this tempe vs. tahu joke from some random googling:
Takkala temperatur terik terbakar terus, tukang tempe tetap tabah,
"Tempe-tempe", teriaknya. Ternyata teriakan tukang tempe tadi terdengar
tukang tahu, terpaksa teriakannya tambah tinggi, "Tahu-tahu-tahu!"
"Tempenya terbaik, tempenya terenak, tempenya terkenal!!", timpal
tukang tempe. Tukang tahu tidak terima,"Tempenya tengik, tempenya
tawar,tempenya terjelek!"
Tukang tempe tertegun, terhenyak, "Teplakkk...!" tamparannya tepat
terkena tukang tahu. Tapi tukang tahu tidak terkalahkan, tendangannya
tepat terkena tulang tungkai tukang tempe.
Tukang tempe terjengkang tumbang! Tapi terus tegak, tatapannya
terhunus tajam terhadap tukang tahu. Tetapi, tukang tahu tidak
terpengaruh tatapan tajam tukang tempe tersebut, "Tidak takut!!!"
tantang tukang tahu.
Tidak ternyana tangan tukang tempe terkepal, tinjunya terarah, terus
tonjokkannya tepat terkena tukang tahu, tak terelakkan! Tujuh
tempat terkena tinjunya, tonjokan terakhir tepat terkena telak.
Tukang tahu terjerembab. "Tolong... tolong... tolong...!", teriaknya
terdengar tinggi. Tetapi tanpa tunda tempo, tukang tempe teruskan
teriakannya, "Tempe... tempe.... tempe...!
TAMAT