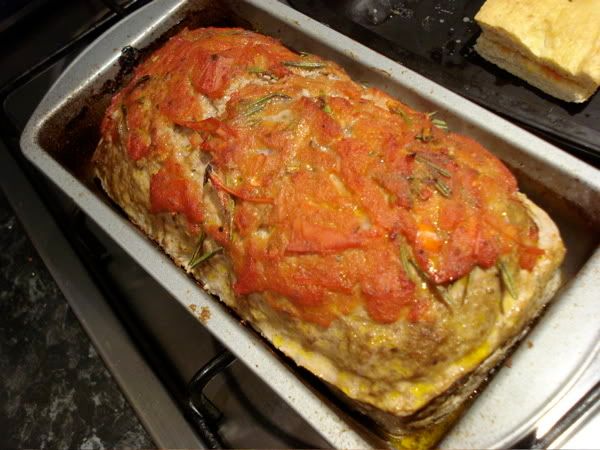 Yes I'm on a blogging streak!!! haha =D Had this meatloaf for dinner (and lunch as sandwich, with my
Focaccia
), partly inspired by the Super Bowl... and also because I've been thinking about making meatloaf since I watched an episode of Desperate Housewives when Lynette made some *burnt* meatloaf.
This is a "lighter" version of it, I use half lean Aberdeen angus minced beef and half minced chicken (bought at this Iraqi butcher that keeps adding extra meat to my shopping do and eventually worked up the courage to ask me out, awwwhhhhh *so sweet* but I said no).
Ingredients:
The
meats
: 1 lb lean minced beef, 1 lb minced chicken (normally people mix minced beef with pork).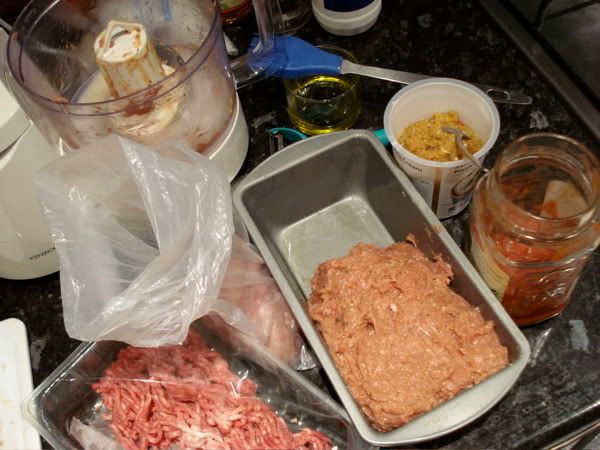 The
filling
: (meatloaf is considered a cheap dinner because people stuff things like oats/breadcrumbs/etc. to expand the volume) ... let me try to remember! (I didn't really have a recipe for this)
1 small tub of wholemeal fresh breadcrumbs (my flatmate's stale wholemeal bread, separate the crumbs, and pulse it on a food processor)
3 cloves of garlic
1 chilli
1 tomato
1 teaspoon pesto
1 egg
1 celery, chopped
1 carrot, roughly chopped
coarse sea salt, black pepper to taste
Method:
The best way to mix all this ingredient is using a food processor, or you can also use a very big bowl and mix everything together. Shape it into a loaf tin, top it with homemade tomato sauce (homemade stuffs always taste better!) and rosemary leaves (from yesterday's focaccia making). Bake for 45 minutes in a preheated oven 180C. Once cooked, leave for 15 minutes for juice to settle. Slice them up, and serve!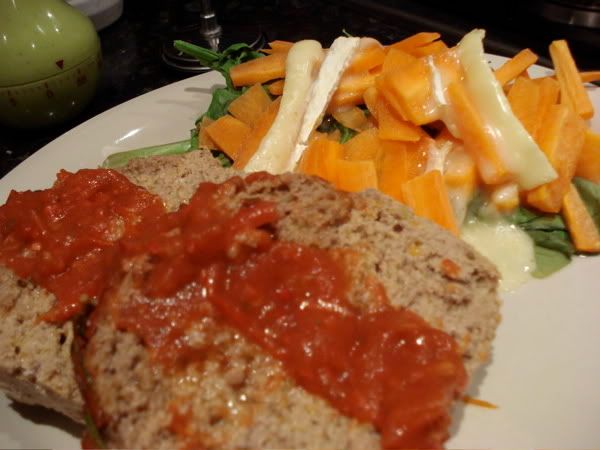 I served it with spinach, rocket, and carrot salad topped with melted Brie.
Leftovers: Wrap any leftovers in foil, I already prepare tomorrow's lunch - focaccia sandwich with meatloaf and rocket salad, yumm!
PS: my meatloaf looks a little bit on the pale side because of the chicken in it, if you use beef all the way it'll be darker.